NYC's big-building greenhouse gas emissions (GHGs) reductions will be driven by PACE-eligible infrastructure elements.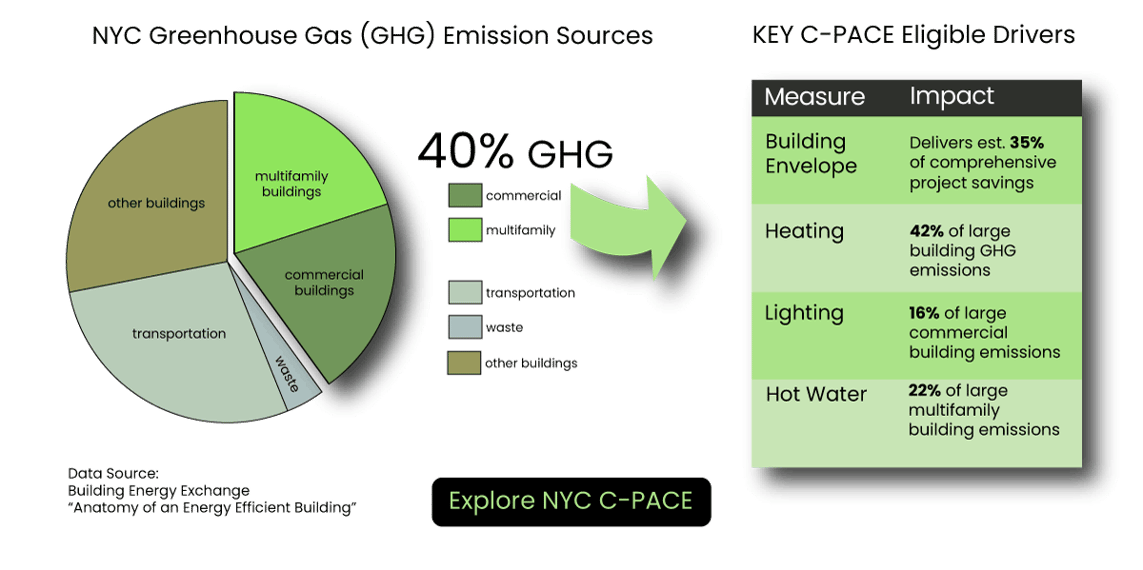 The Building Energy Exchange (BE-EX) recently published its "Anatomy of an Energy Efficient Building" exhibit as a virtual exhibit. The exhibit explores the strategy and tools required to help meet New York City's goal of 80% reduction in greenhouse gases by 2050. While building envelope improvements and investment in efficient heating, lighting and hot water sources are obviously among the means to the end, the financial tool, C-PACE is recognized as a resource to help get buildings and their owners where they need to go.
Local Law 97 (LL97), which was approved as part of New York City's Climate Mobilization Act, enabled the creation of a C-PACE program to help building owners comply with carbon reduction goals. C-PACE financing, provided by CounterpointeSRE, can provide the long-term, low-cost capital necessary to improve both the large commercial buildings impacted by the New York City Climate Mobilization Act as well as any commercial or multifamily building seeking to make energy saving capital improvements.
In a recent statement to Greentech Media, the New York City PACE program administrator, NYCEEC indicated that the program which was originally slated to take applications from capital providers in early 2020 has been delayed because of the COVID-19 crisis. "The city must still issue draft rules for public comment before the PACE program rules can be finalized," reported Greentech.
Program launch delays aside, the approaching fines for large buildings emitting beyond their designated cap should have building owners examining the strategies presented by BEX. Likewise, conversations with PACE capital providers can't happen early enough.
"The basic structure of the NYC PACE program will mirror that of the State, so we are more than comfortable with working on deals as early as today," commented Eric Alini, managing partner of Counterpointe Sustainable Real Estate. "The New York City program has been designed with input from many industry stakeholders so there is a groundwork from which we can help building owners and developers integrate C-PACE financing into their near-term planning."
To start a conversation about a New York City C-PACE project please click on the "Explore NYC C-PACE" link below.